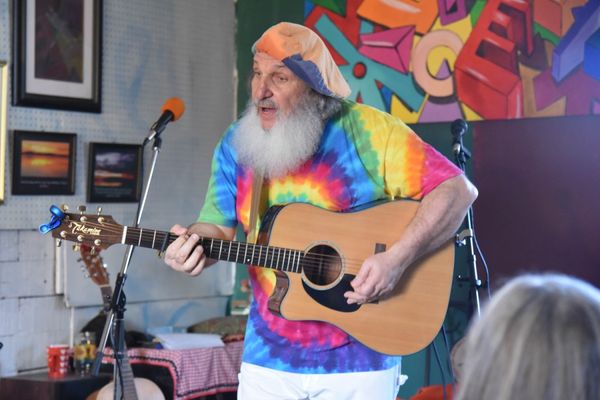 Ish has been delighting Canadian audiences for years and it is easy to see why he continues to be a favorite  among Grown-ups and Children alike.  Ish's charm and ability to relate to all of his audience as he shares his genuine gifts as a Family Friendly Singer, Songwriter & Storyteller. 
Ish has a delightful sense of humor, warmth and an uncanny ability to entice others to join in and sing along and have some fun.
When asked to describe his influences Ish happily says, Gentle Clown Red Skelton & Musically like Jim Cuddy meets Raffi.
Ish's interests in writing and performing for Children and their Families started with the joys of parenthood.
Since then Ish has enjoyed a colorful and varied career.
Beginning as a delightful Hobo Clown or Court Jester, Ish joyfully mixed music, storytelling, balloon sculpting and messages of goodwill with his interactive and off-the-wall humor.
It was through this amazing journey that Ish found a way of expressing himself in a creative and meaningful way.
For more information of Ish's time as a Clown, please visit his Memories page.
Nowadays, Ish's performances blend good clean humor with today's common-sense values and an upbeat musical style that appeals to young and old alike.
Composing on guitar, mandolin, banjo, dulcimer, harmonica and melodica, Ish's style is best described as an eclectic mix of upbeat Folk, Blues-Grass, Soft Rock and Country.
---
Walking Shoes is a funky Blues shuffle. It has a straight ahead message: Be clear about your objectives, don't be afraid to choose the road less traveled, be accountable, be kind and keep moving forward. Musically it was inspired by the laid back blues of JJ Cale.
Walking Shoes
Ish / Ishdafish & Friends
Ish takes pride at being a versatile and seasoned Family Friendly Performer and will often do different sets, when requested. 
From fun filled Concerts for Kids & Families to Folk - Roots Concerts for Grown-ups to mixing it up for All  Ages to enjoy  featuring songs and instrumentals from his five family friendly CDs.